×
[PR]この広告は3ヶ月以上更新がないため表示されています。
ホームページを更新後24時間以内に表示されなくなります。
*** mini Daijiro Kato 2001 *** >>日本語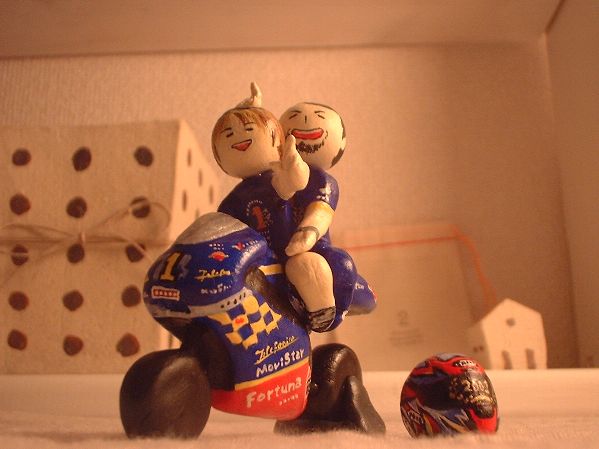 mini Daijiro Kato

WGP250 the 15th Malaysia GP final
on October 21, 2001
It was finished to ride
in the important race
by an overwhelming high pace.
Daijiro Kato 25 years old
in whom the world title is made control
by the highest win.

The staff who was change of clothes
to Champion T-shirt
waited for his return.

Moment of rejoicing

Special helmet written 2001 champions
and Special T-shirt

Then the number of his motorcycle was
repapered from "74" his pronoun to
Great Number "1".

Daijiro with Gresini model
and
Riding Daijiro in Japan GP model
these are my last work in this year.

Well, when leaving it even in 2006, it became a little after.
It was able to meet a lot of hot giving whole mind to one and each rider through ClayRiders this year.
It is my best treasure.
Four whole years start passing keeping making clay from the one's own pace ..
I will ...continue my work more and more.
All guests who visited,
All guests who gave me the hertful message,
Thanks a lot.

Everybody, See you Next Year !