×
[PR]この広告は3ヶ月以上更新がないため表示されています。
ホームページを更新後24時間以内に表示されなくなります。
*** mini Haruchika Aoki*** >>日本語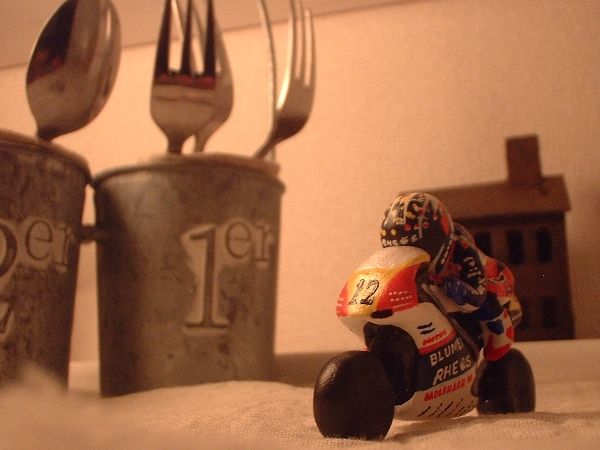 mini Haruchika Aoki

There were three famous brothers who won in mini motorcycle road races of Japanese various
places in 1986.
Nobuatsu, Takuma, and Haruchika, They are Aoki 3 brothers.
This Clay Rider is youngest brother, mini Haruchika Aoki.

An indispensable episode to talk about him might be a peculiar process until participateing the WGP.
Most riders start on the WGP after it takes an active part in a domestic race.

Surprisingly, He has not ride in all-Japan championship !!!

He who became country B class rider in 1988 have greatly took an active part by local championships of various places.
It paired with Katsuaki Fujiwara in 1992 and they won the SUZUKA 4H.
A special promotion was accomplished to international A class in 1993 when his activity was admitted,
and it entered WGP125 in the same year !!!

The talent flowers suddenly in 1995 of year of the grand prix third.
In Australia GP of the opening race, He accomplished the the first victory in WGP, and somewhat 18 years old !

The second victory of the satisfaction is given in Japan GP that did the triumphant return homecoming a top ranking.
All AOKI brothers went up to the commendation stand in a variety class on this day.
Victory is acquired well afterwards and the title is acquired by seven victories at 13 races during the year.
The great achievement of world champion in continuousness was accomplished very much for two years
defending the title even in 1996 the next day.

He runs most ahead for the ends.

Great tuning by Hans Sparn, Colorful sponsored by flower shop Blumex of the Netherlands, Sakata and Ueda also admitted,
I think it was the highest packaging.